FAQ's
We get it, it's tricky to tell from photos. That's why we offer colour swatches so you can see the actual colour in it's real finish for yourself before you pick. You can order as many colours as you like HERE.
The Shorty : H72 * W35 * D46 cm
The Skinny : H183 * W35 * D46 cm
The Lowdown : H72 * W100 * D40 cm
The Midi : H111 * W85 * D40 cm
The Twinny : H183 * W85 * D50 cm
The Baskets :
Big x 1 : H16 * W40 * D26 cm
Small x 2 : H16 * W24.5 * D17
The Hangers :
Kids Clip : H12 * W25 cm
Kids Top : H17.5 * W30.5 cm
Adult Clip : H12 * W35 cm
Adult Top : H20 * W38.5 cm
The Shorty : H59 * W50 * D15 cm
The Skinny : H180 * W55 * D15 cm
The Lowdown : H124 * W57 * D18.5 cm
The Midi : H110 * W49.5 * D23.5 cm
The Twinny (comes in 2 boxes!) :
Box A : H177 * W58 * D14 cm
Box B : H177 * W58 * D10 cm
The Baskets : H43 * W28 * D20 cm
The steel we use for the lockers is nice and sturdy. In the Skinny, Shorty and Twinny each shelf can hold up to 20kg, and in the Midi and Lowdown each shelf can hold up to 40kg.

On top of the lockers our recommended weight limit is 50kg. For the Skinny and Twinny we'd recommend being careful with what you put on top, just in case it falls off!

Each locker also comes with wall plugs and screws, with holes in the back of the locker to fix it to the wall for extra stability.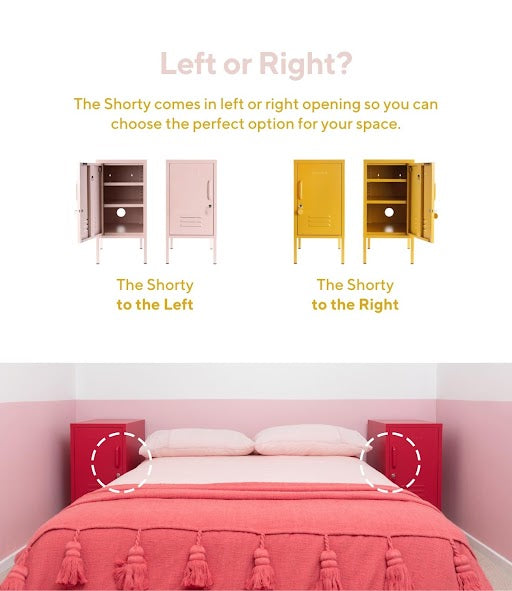 The Shorty comes in both opening options, to the left + to the right. Our standard is for the door to open to the right. The Skinny only comes in the standard right opening.
The Shorty in Mustard in the photo opens to the right. This means the handle is on the left and the hinge is on the right, the door swings open towards the right.
The Shorty in Blush in the photo opens to the left. This means the handle is on the right and the hinge is on the left, the door swings open towards the left.
Your locker will arrive flat packed, this makes transporting much more efficient.
It's easy! Mustard lockers are smartly designed so it's nice + simple. You'll find your instructions inside + only need a screwdriver to attach the handle, no other tools needed! Trust us! Click here for our how to videos.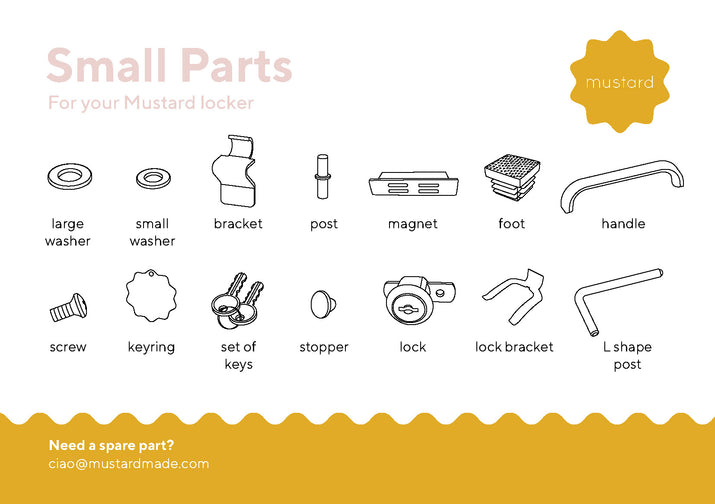 Don't worry, we have lots of spare parts! Just email us at ciao@mustardmade.com, tell us what you are missing + your postage details, we can send you what you need!
Email us at ciao@mustardmade.com + we will do our best to help you find a solution!
Also, just incase you're making your locker + can't find a key... they come attached to the inside of the door! 
The back panel of each locker has holes to allow you to attach it safely to the wall. Two screws + two raw plugs are provided but please check the best fixing method for your walls.
Our products are made from quality powder coated steel. They are strong and designed to last. 
The simple answer is nope. They are designed for indoor use in areas where they will not get wet or be exposed to regular moisture.
If you did decide to place it outside or in a bathroom it would increase the likelihood of rust over time. That being said they look awesome in bathrooms so it is your personal choice!
We don't have our own shop but we do have lovely stockists across the Europe. Have a look here to find your nearest one.
TV boxes can be put inside lockers + the remote will still work with the door closed (the Lowdown makes a great TV cabinet!)
Internet boxes can be kept inside your locker, but depending on how strong your internet speed is it can slow it down a little or make it not reach as far.
Yep, and they are super handy! All of our lockers come with a cable hole (two if it is a double door locker!) meaning you can keep extension cables + messy wires all neatly hidden away.
We are currently only able make the products we have available on our website. However, we love hearing new ideas for lockers you would love to make a reality, so pop an email over to ciao@mustardmade.com if there's a type of locker you would love to see us make!
Yes, we offer Klarna which allows you to enjoy your Mustard goodies now.
Klarna offers three options for payment.
Pay in 30 days - no extra charges
Pay now (direct debit, bank transfer, card) - no extra charges
Pay over 6 monthly installments or 12 monthly installments - charges from Klarna apply
Conditions apply, click here to find out more and selct your country of delivery.
We are only able to offer Klarna in Austria, Belgium, Finland, France, Germany, Ireland, Italy, The Netherlands, Portugal and Spain.
We know everyone loves a sale, but we keep them rare and special around here. You won't see us doing a weekend flash sale 'just because' or an end-of-season clearance.
But when we DO do sales, we go big! Here's why and how to be the first to know when a sale is coming up.
We can ship to any country in mainland Europe.
Here is the list of the countries included -
Austria, Belgium, Bulgaria, Croatia, Czechia, Denmark, Estonia, Finland, France, Germany, Greece, Hungary, Ireland, Italy, Latvia, Liechtenstein, Lithuania, Luxembourg, Monaco, Netherlands, Norway, Poland, Portugal, Romania, San Marino, Slovakia, Slovenia, Spain, Sweden, Switzerland and Vatican.
If you can't see your country on the list, pop us an email at ciao@mustardmade.com and we'd be happy to help you out!
The prices shown on our website are inclusive of VAT based on your country's VAT rate. This will be automatically calculated for you and the VAT amount you are paying will be shown as 'taxes' on the checkout payment page.
FYI... If you are shipping to another country from where you are (based on your IP address) the VAT charged may be recalculated at the checkout when you update the shipping address.
When you shop on our European website, your order will be shipped from our warehouse in Slovakia, this means there will be no extra taxes or duties to be paid.
There are a few exceptions...
For orders going to Norway and Switzerland additional costs such as VAT, duties and courier brokerage fees will apply and will be charged by the courier prior to delivery.
Orders placed on our European website will be charged in Euros.
Got another question?
Our phone lines are currently unavailable
Our contact details
Mustard Made UK Ltd
3 Centric Close, London, NW1 7EP